The Táin March itself is the physical act of walking from Rathcroghan site in Roscommon all the way to Cooley in County Louth. This takes place over three weekends and 12 walking days in total. Through fields, over mountains and wading through streams the marchers follow Queens Maeve's route in pursuit of the Brown Bull. At key towns and villages the local community organises events, receptions and parades to welcome the Marchers.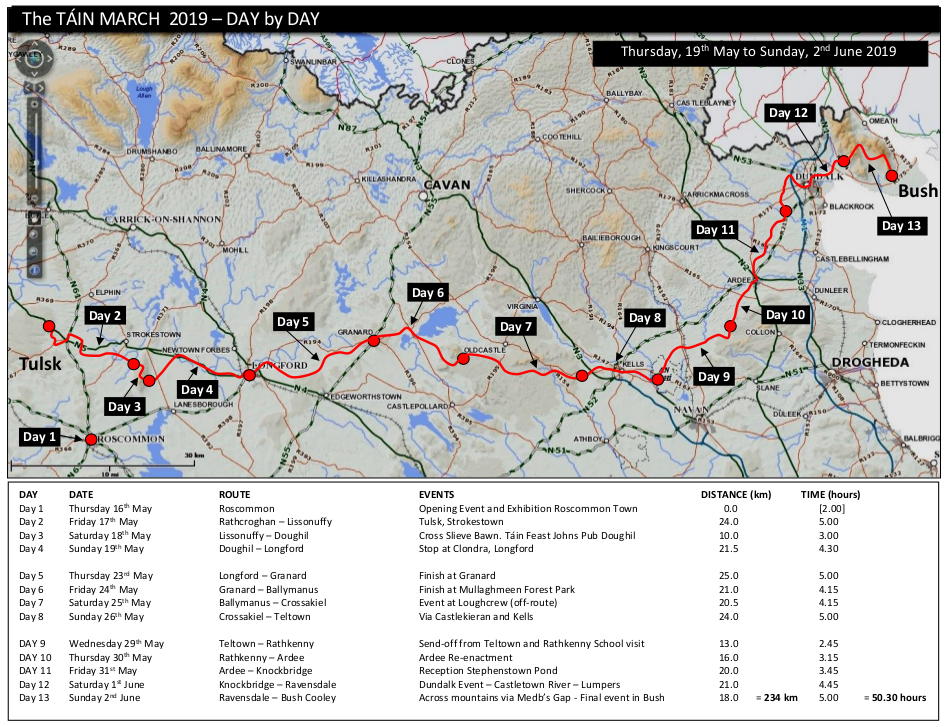 Further Information
The Route of The Táin March is based on a combination of the following criteria:
information on the route as provided in'Sligi na Tána', so so-called itinerary of c.65 places listed at the beginning of Táin Bó Cúailnge;
information on the route provided by placenames mentioned in the story itself;
local lore regarding the route followed by Queen Medb's forces on the Táin;
the physical landscape, in particular, the limitations (bogs, rivers, hills) and opportunities (riverfords, natural causeways and ridgeways) for safe passage through the north midlands;
the cultural landscape, in particular, the network of older cross-country by-roads and trackways.
---
The Stages and Dates for The Táin March are based on a combination of the following criteria:
avoidance of main roads (Motorways and National routes) wherever possible for health and safety reasons as well as walking comfort;
a mean walking distance of 20 km per day;
engagement with no more than one school or event each day;
focus the events along The March around weekends (Fridays-Saturdays-Sundays);
locate the Stage start/finish points at major population centres, e.g. Longford, Kells, Dundalk.
---
The Events and School Visits proposed for The Táin March comprise:
Events: provisionally, parades and/or pageants in the following places: Rathcroghan/Tulsk, Longford, Ardee, Dundalk and Bush.
Schools: a series of pre-March seminar visits to National Schools along the route followed by visits to these schools during the March. On the basis of previous Táin Marches, these may well include the following: Tulsk, Co. Roscommon; Clondara, Longford Town, Ballinalee and Granard in Co. Longford; Ballymanus, Co. Westmeath; Kells and Newtown in Co. Meath; Ardee in Co. Louth.
---
onenew

---
newtwo

---